TO USE THE SERVICE REGISTER FOR A FREE TRIAL
If you are an Administrator your login allows you to manage your organisation, invite more users, create tokens, monitor usage and use Address Lookup Web Applications without leaving the Portal.
The Portal will automatically create you an Organisation using the organisation name provided at registration. This will receive 10 free Address Lookup clicks automatically to get you started.
Future clicks can be purchased from a number of datasets or you can contact us for additional test clicks.
Our friendly helpful Welcome Wizard will help you get started when you first enter the Portal.
If you have been invited as a member only then you will not have access to Manage the Account.
The Welcome Wizard will help you get started as quickly as possible.
To switch between areas you can use the menu options at the top of the page.

Menu Options
"Applications" leads you to Address Lookup.  Address Lookup requires you to have a live click bundle which can be purchased through Administration, Shop or Contact us.
"Reporting" menu option allows you to monitor usage.
"Administration" will take you to the administration pages of each product where you can edit the Organisation, invite/edit users, create tokens and buy click bundles.
"Documentation" will take you back to the Hopewiser Website's Developer Documentation.
"Shop" will navigate to the Address Lookup shop facility to purchase click bundles.
If you need to subdivide an organisation, for example you need to restrict plan access to a business or billing entity, so that you can account for them separately, then please contact us to enable a Corporate Account.
Clicking an option will take you to the reporting pages to monitor usage. The Service Plans tab gives a brief summary of plan usage.
Click on an entry in the list to report on usage by plan.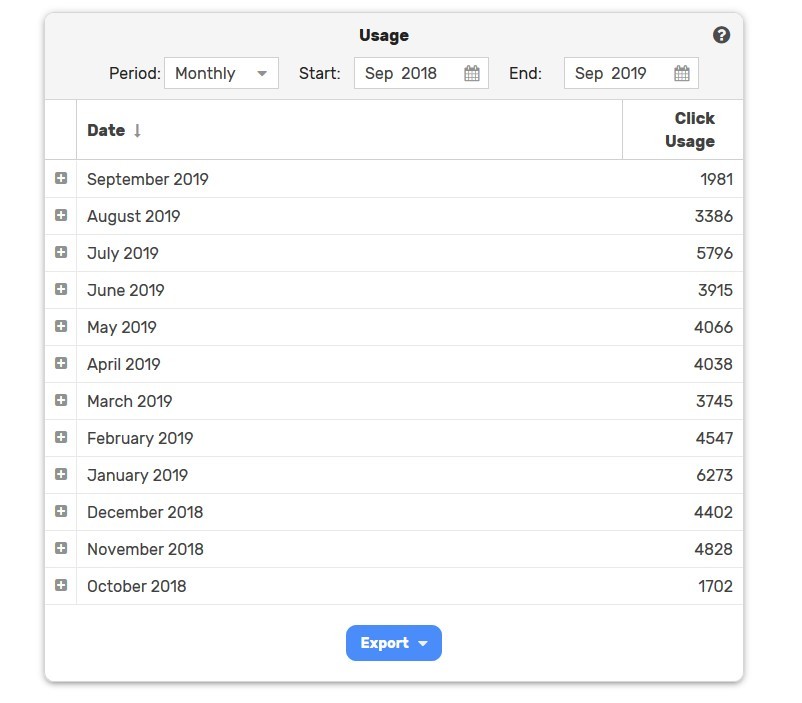 You can also see usage by token if you select a token from the Tokens tab.
The Account administration page allows you to;
Edit or delete the Organisation account created
Manage administrators and members
Invite and edit users
Administrators will receive both warning and monthly usage emails unless they opt out via 'My Settings' privacy section.
A member will only be able to use the Portal Web Applications, if they are enabled for that member.
When you invite/edit a user you can enable/disable the Portal Web Applications. Enabling Address Lookup for a user will allow them to use live bundles in that account. Portal applications require an appropriate Token. Options are provided to select an existing token or create a new one.

If you click on Address Lookup you will be able to purchase clicks and create tokens.
The Service Plans tab shows plan details and purchase history. If you require a different plan click the 'Shop' button or 'Buy Again' to purchase the same plan.

The API Tokens tab shows the Tokens that are used to access plans via the Address Lookup APIs and clients, and you will need to create at least one for this purpose. From the API Tokens tab you can create and remove tokens. You are able to specify usernames of your choice, which will show in usage reports.
You can also optionally specify a default dataset reference (if none is provided to the API by the programmer) and a click warning level: once this threshold is reached in a day, a warning email will be sent to all administrators who have not disabled the warnings for their account.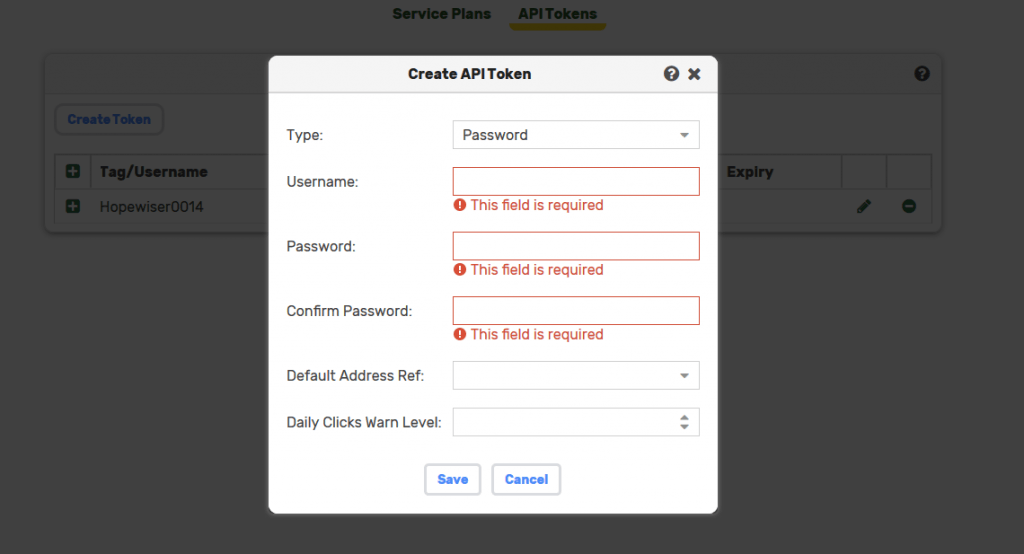 Plans may be purchased via the Shop menu option.
In the on-line shop you will see a list of available datasets: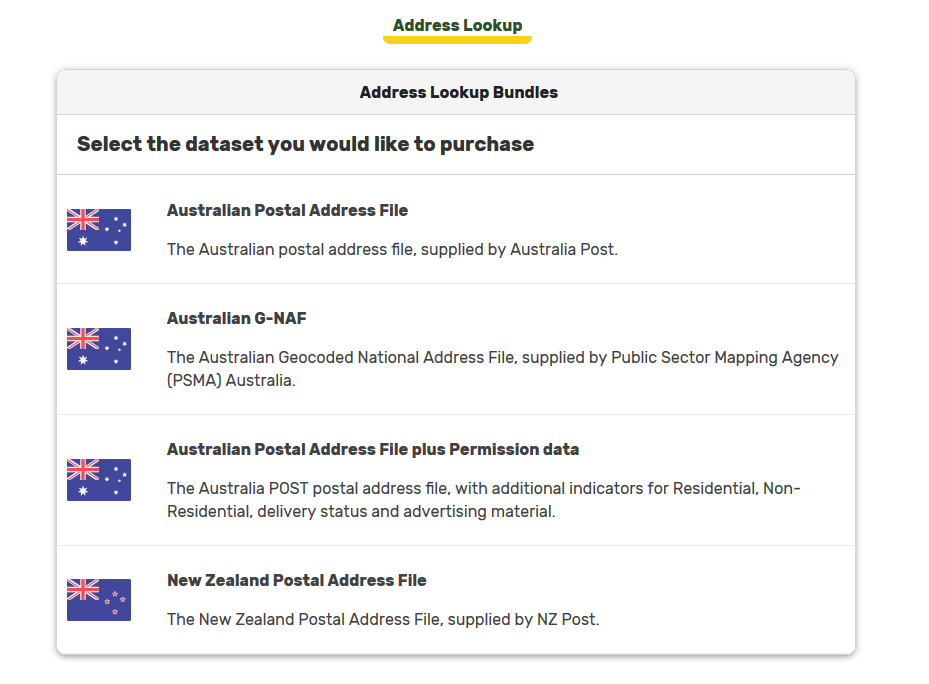 Depending on the chosen dataset one or more cost plans will be shown. Each plan relates to a licence agreement with the data provider. For the required plan (or plans), please select the desired click quantity, then click Add to Basket.
Your basket will show all requested plans and cost (excluding VAT). If you require another plan then click on Shop in the navigation bar to go back. To proceed select Checkout. This will guide you through the payment, via Stripe, provide an invoice and add your purchases to your cost centre.
Please note that on-line invoice information is only available for purchases made through the on-line shop.